Joined

Oct 14, 2019
Messages

94
Hi all, I recently replaced the bridge pickup in my '74 ES-345 (it had a blue/green type of corrosion on the baseplate and has never sounded as good as the neck pickup). The varitone has been removed and it is wired 50's style mono.
The pickup I tried is a Seymour Duncan Antiquity and it sounds really harsh and brittle, I've played around with pickup height and adjusted pole pieces to no avail.
The guitar has a three piece neck that I believe to be maple. Does this effect the tone significantly?
My question is, has any one had good results with certain pickups in 70's ES's?
Any help would be appreciated.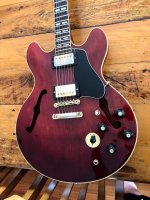 Last edited: