Joined

May 25, 2021
Messages

617
I can't believe nobody's posted on here about Brian Jones Gretsch. It is a 1963 Gretsch 6118 Anniversary guitar, and along with a Goldtop Gibson Les Paul and the Vox 12 string electric guitar, it became one of the standards in Brian Jones guitar rig during his tenure from 1966 up until his untimely death in 1969.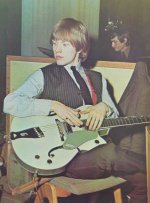 It is a wonderful hollowbody electric guitar, and one of the crown jewels of Brian Jones R&B inflected guitar solos. I think his guitar playing was just as important to the Stones as Keef and Ronnie Wood. Check out Brian's slide guitar solo on Little Red Rooster.
Both the Vox 12 string and the Goldtop were auctioned off recently for $75,000, and I wouldn't be surprised if this Gretsch was auctioned off too. I've always wondered about this Gretsch.
It is also proof that the Beatles weren't the only British band to play Gretsch (as we all know, Joe Walsh gave Pete Townshend an orange Gretsch that was used throughout the Who's Next sessions), and of course we all know that John Lennon played a Gretsch 6120 and that George Harrison played various Gretches, including a Gretsch Duo Jet, a Gretsch Country Gentleman, a Gretsch Tennesseean, and a Gretsch White Falcon.
Brian used the Gretsch most notably on the track I Wanna Be Your Man (which was written for the Stones by their rivals John Lennon and Paul McCartney).
Brian also played the sitar on Paint It Black, the harmonica on Not Fade Away, the piano and woodwinds on Ruby Tuesday, and the marimba on Under My Thumb. Shows how impressive his skills were, weren't they? His guitar solos on Sympathy For The DEvil are also very good (where he trades his licks with Keith Richards).
I hope that the kind people at the Les Paul Forum appreciate this post. It is also proof, sadly, that some of the greatest rock stars, especially Brian Jones, have to die at age 27. I think I'm gonna buy a Gretsch one day, to prove the influence Brian Jones has on so many musicians.
For the first couple of years the Stones were bashing away on some fairly ordinary guitars — mostly from the Harmony range (often seen as the poor man's Gibson, Fender or Gretsch). However soon after the Stones recorded their first single, "Come On", in May of 1964, Brian Jones went to Sound City in London to upgrade.
Ronnie Wood played a 1957 Gretsch White Falcon a few times in 1981, whereas Mick Taylor always played a Gibson Les Paul during his tenure in the Stones.