Joined

Oct 16, 2008
Messages

120
Greetings, all.
I need to get some advice from forum members who have good knowledge about 60's SG's.
I recently bought a 1969 SG Standard with Maestro vibrato tailpiece. I had a '69 back when I was a teen in the late 60's, but sold it in the late 70's, and have regretted it over the years. This one was surprisingly unmolested for a 40 year old. Only changes were the tuners are vintage Schallers, amber top hat knobs, and the bridge pickup was turned around (?). Original pots and solder joints, patent number pickups, no buckle rash or finish checking, just a few body dings. Original case with marigold lining.
I since have replaced the knobs with a set of black witch hats from my '72 ES-335 that I still own (see avatar pic).
Here is a picture from the eBay seller's auction ( I haven't taken my own pictures yet):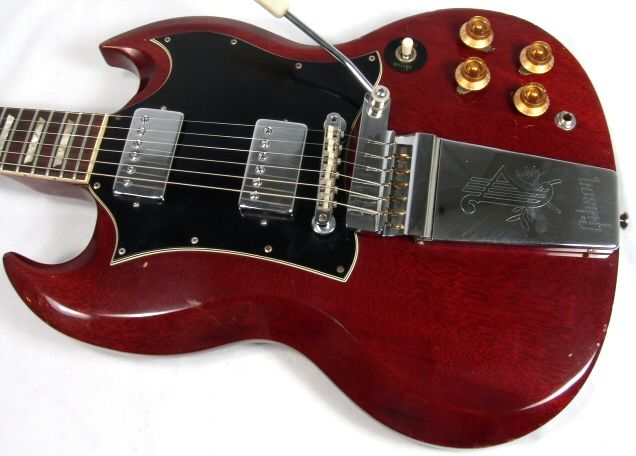 I bought this guitar for three reasons: 1. I regretted selling my old one; 2. As an investment, as I paid much less than other ones I've seen on the 'Bay; 3. I plan on playing this bad boy!
My question has to do with the ABR-1 bridge. It has nylon saddles, which would be correct for a '69. Should I replace the nylon saddles with metal ones? Leave them as they are? Or put this original bridge into the case pocket, and buy a repro ABR-1 bridge with metal saddles?
What would you guys do if you had this guitar? Is the tone going to be that much different between nylon and metal? Clapton's red '64 ES-335 had nylon saddles, and that guitar sounds pretty good to me!
I appreciate your replies and advice.
Regards,
Dave in So Cal
Last edited: