Joined

Sep 16, 2022
Messages

17
Hey folks... This 2011 Memphis ES-345 is my favorite of the 15-20 electric guitars that I have owned. I saw it advertised on Sweetwater as a "demo" model, IIRC. It wasn't exactly new, but it was basically unplayed and was about a thousand bucks off the going rate for new ES-345s at the time. I pulled the trigger, with the 30-day return option, and I have never looked back. This one has always felt like it was made for me.
My thoughts on it are that it demonstrates to me that Gibson makes really fine guitars in recent years - I mean, they are at least on some kind of par with the old ones. This particular variation of the ES-345 I like because of the dual output jacks, the Varitone, which functions (including bypass) exactly as desired, and the pickups, which I really enjoy (I know there are always mixed opinions on modern pickups). I also really like the neck, which is on the slim side, but not a stick of gum slim, with nice comfy rounding.,
The rosewood fingerboard on my guitar is not dark, and I wonder if the factory raid a couple months prior was a factor. Also, I've noticed that Gibson split-parallelogram inlays are different on newer guitars; they are wider, with less wood space between them, and they have sharper corners, and maybe a bit whiter than the old ones..(?)
I believe the weight is between 8 1/2 and 9 pounds.
Original ad photos (plug in one mono chord for mono, or two mono chords for stereo):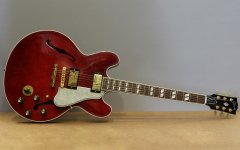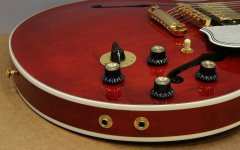 New baby comes home in early 2013: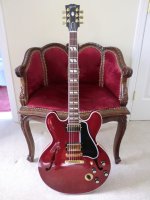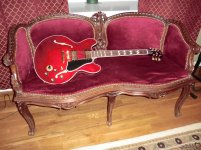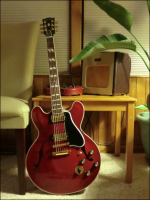 Pickups dated 2011 and neck route/tenon: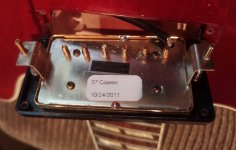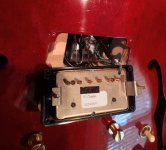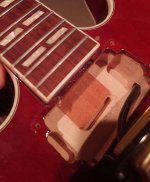 At home recently...could use a cleaning/polishing...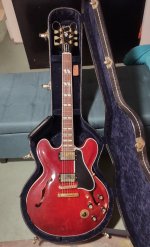 Last edited: