Joined

May 16, 2019
Messages

163
I recently sold my last Gibson Historic Les Paul and got this '19 Les Paul Studio as part of the sale. Kind of like a consolation prize, I guess.
I still own a Standard '50s LP Goldtop, a Slash LP Vermilion Burst, and a late '70s "The Paul" so I'm still not hurting to bad for Gibson guitars. Plus, I want to buy a nice used Honey Burst or Iced Tea Burst R8 later this year (2023).
Anyway, I am almost-always impressed with Gibson Les Paul Studio's, I've probably owned at least ten (10) LP Studio's and this one is no exception. It is really a nice guitar, it plays well, feels good, looks good, sounds good, and stays in tune. Gibson LP Studio's are just super-nice guitars for the money (especially when buying used).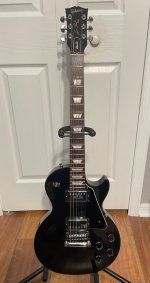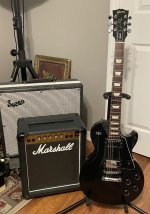 Last edited: