Joined

Jul 7, 2006
Messages

78
i received my new 64 reissue 335, it have to say i love it, it's gorgeous, the red is just stunning...
i'm not sure i like the pickups and pots, but hey i'd have changed anyway for real PAF and good pots..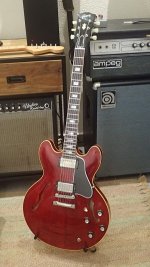 but??
look at the f-hole slice... it looks like it's not been finished at the same time as the top and with a strange red paint...
have you notice that on yours? is it the way Gibson nashville finish their f-hole? don't have a real one but looks odd to me...