Joined

Jun 30, 2013
Messages

301
I know you've all heard about this guitar a lot... but it sometimes keeps me up at night. I love the thing. It's a late '53 original thin wraparound guitar (though it now has a MojoAxe on it). It's all original aside from a fret job and being crudely routed for humbuckers. I'm a 'bucker guy all the way and I love it with them. The main thing that bugs me about the guitar is the patch/crack in the top, obviously. It's been stable for 40 years and has had a piece of leather over it for as long, but I certainly wouldn't mind having some wood there.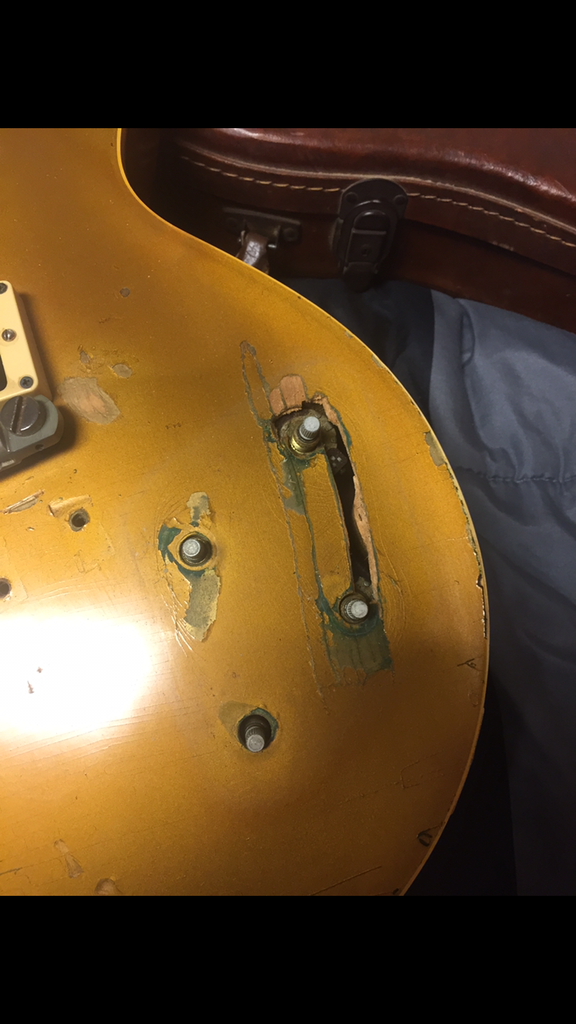 I have two main questions about doing this repair.
1) Is there anybody who can fix it and make it look significantly better than it does now WITHOUT having to refinish or significantly overspray the top? In other words, the damage and patch isn't very noticeable on stage, so if I were to get it fixed I would want it to be as original looking as possible or it wouldn't be worth the time and money. I can't imagine how that's possible without some serious finish work but I'm no expert. I will not remove any significant portion of the original finish.
2) Part of my aversion to doing any serious restoration to it is because I bought it from the original owner like this for the most part. Some days I think "well, it's a player, so why not do what I want," while other times I think "it's got mojo and I shouldn't touch it." If I go as far as fixing the control cavity, I might entertain the idea of converting it to an ABR/stoptail, essentially making it a '57. Thoughts on this? Reasons to do this are...
-There's not enough space behind the bridge pickup to restring the top 3 strings without removing all the strings and bridge. Not great if I break a string on stage
-Looks kind of naked with just a wraparound when it's already been converted to humbuckers
-An ABR and tailpiece would somewhat cover the screw holes in the top or whatever touch up repair I might do to them
The thing is I do love the sound of it as it is. It's VERY bright and snappy, almost like an SG with more lows and my main guitar is an SG so I like that a lot. I'm not sure how much the wraparound has to do with that. I've played 50s Les Pauls much brighter with a TOM/stoptail set up and I've played ones much darker with a wraptail. I don't want to ruin the guitar, but a '57 Gold Top has always been my "unrealistic" dream guitar and the idea of having almost exactly that is fairly enticing.
Keep in mind this guitar is on the road quite often without a direct backup, so if I were to get this work done I would need it to be as affordable and quick as it can be without sacrificing quality, if anybody knows the guy for the job.