Joined

May 25, 2021
Messages

616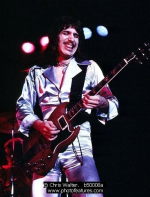 Although he is well known as the rhythm guitarist in the Canadian rock band Bachman Turner Overdrive, replacing Randy Bachman's brother, Tim Bachman, Blair Thornton is one of the greatest SG players who ever lived, his lead attacks often getting overlooked by the lead riffage of Randy Bachman (who mostly played Rickenbackers, Gretsch guitars, and Strats and Les Pauls). This red Gibson SG is the same one featured in the gatefold sleeve of Not Fragile, and was used to play on tracks such as Hey You, Roll On Down The Highway and You Ain't Seen Nothin Yet. His playing was a huge part of BTO's sound, and like a lot of rhythm guitarists, he never got enough credit for his playing.
Blair is largely retired from playing, living in Vancouver with his wife, but I do often wonder if Blair still owns this SG. I did write to Randy Bachman last year, but he never wrote back. From the looks of it, the SG seen looks to be made sometime between 1963 and 1965. The SG is wonderful for a blues or folk sound. George Harrison and Eric Clapton are well known for playing SGs, as is Tony Iommi of Black Sabbath.
I do own Not Fragile on vinyl, and it stands out as one of the all time classic rock albums of the 70s. A must own.