Joined

Dec 6, 2006
Messages

358
I hope this in the right place,
It's been a strange year, and until very recently I thought I'd been good, only had one new guitar that I picked up in Feb, a build I commissioned and that took a year, that was a great experience and I guess I was happy with that, anyhoo, I started a music degree in Sep, a lifelong ambition, and thought I'd treat myself to something light to carry to class, so I scored a 2013 SGJ, which turned out really nice after I put new pots,pickups,tuners,pickguard,,basically everything-- sounds and feels really good now, and I thought that was that, still haven't solved the neck dive though, so, as I'd been a good boy all year I thought what the heck, I'll treat myself for Xmas, so I saw this, 2015 Les Paul CM, robotuners, a junior with a carved maple top and a humbucker, something I wanted to try out for a while.
It arrived yesterday, and was fantastic out the box, think it was a return,for some reason, but I couldn't find anything wrong with it, except the strings were too light, I think Gibson use 9s.
So I raided my parts box and got tweaking.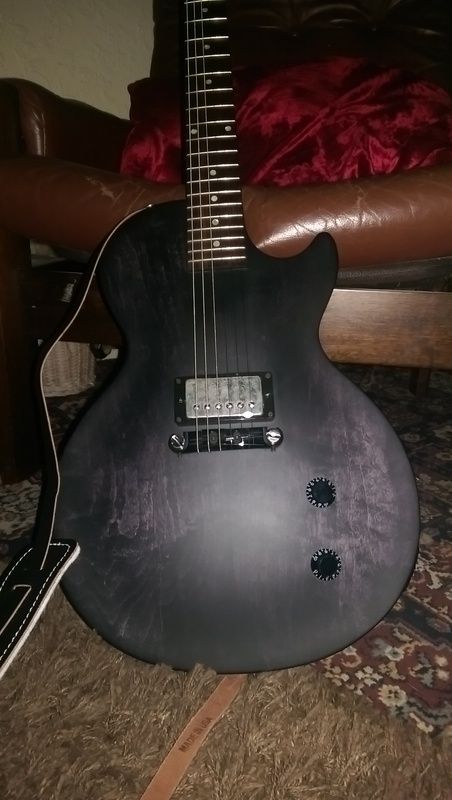 I put a black Wilkinson wraptail on, which just looks better,and feels a little better quality, and then I thought, F### it, I always wanted to try an EVH Frankenstein in a Lester, and I had a spare DMC cover, the robot tuners work well for now, so, gentlemen, let me introduce--
Black Frank,
A fender pickup in a Gibson, a junior , a tribute to Mr Ed.
And I managed to post this,from my phone, after not using Photobucket for far too long.
This proves-- Next year--anything's possible.
Cheers guys
Andy k