Joined

May 25, 2021
Messages

617
He is playing a red 1961 Gibson EB0 bass in this picture, which I believe was taken sometime around 1973 or 1974.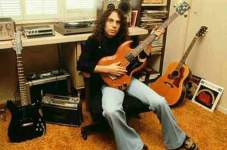 One of the other guitars in the background looks to be a Gibson acoustic guitar, but I can't make out what specific Gibson acoustic.
Although Dio is more remembered as a singer for bands such as Elf, Dio, Black Sabbath and Rainbow, Dio was also a very skilled bassist, playing the instrument in his early hard rock band Elf, whose debut album was recorded in Atlanta, GA, and produced by Deep Purple members Roger Glover and Ian Paice.
Dio owned several Gibson basses, all of which were given to his widow, Wendy Dio, after he died from cancer in 2010, and subsequently auctioned off in September of 2018. He also played a Fender Precision.
Bob Daisley I believe played a Gibson EB3 on the Rainbow album Long Live Rock N Roll in 1978, and I believe that Jimmy Bain played a Yamaha bass and a Gibson Thunderbird on most of the Rainbow and Dio albums. For an album made nearly 40 years ago, Holy Diver is still pretty mind blowing. Rainbow In The Dark and Holy Diver, I think, were the best songs on the album. As
@Overdriven66
says, Jimmy Bain got some KILLER tones out of that T-Bird and his Yamaha basses, but I think he mostly used Ampeg during those days.
Here is Jimmy Bain with his Thunderbird bass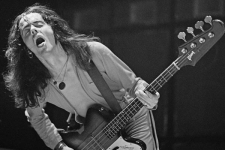 I also know Roger Glover used a Thunderbird when he was in Rainbow. You can see it in the video for Since You've Been Gone.
It was a very sad day when Dio died in 2010. Without Dio's skilled singing, there would be no Creed, Godsmack or Metallica.
Among the many men who attended his funeral were his Sabbath bandmate Tony Iommi, Rudy Sarzo, Rob Halford and Glenn Hughes.
I hope this thread about Dio interests too many heavy metal fans. I need to go find a cheap copy of Rainbow Rising and add it to my record collection...