Joined

Aug 29, 2022
Messages

4
Hello everyone. I'm new to the forum, so I am unsure if this is the correct place to post. If it is not, please let me know and I would be happy to move my post.
I have recently purchased a 2003 1968 Les Paul Custom Reissue. Here is a picture of the exact guitar: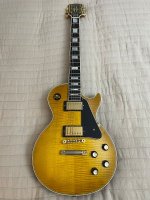 I am in the process of replacing all of the gold hardware with black. Everything has been replaced, with the exception of the bridge. I ordered this bridge in the color Cosmic Black:
However, when I went to install it using the stock bridge posts already mounted in the guitar (not wanting to replace the posts / make any permanent modifications), I noticed that the diameter of the original posts was smaller than the new posts I received. The new bridge holes are too big, and the new bridge is able to move around while mounted on the original posts.
I don't understand what I did wrong. The website diagram lists that the posts have a diameter of size M4. Are there multiple size posts for the (what I am assuming is) ABR-1 bridge? What is the correct bridge to get? I'd like to get one from Gotoh if possible to keep the Cosmic Black color, but any other Black Nickel or Black bridge should be fine. If I need to I can always enlarge the holes to accept the provided bridge posts, however I'd like to avoid that as much as possible.
Thank you in advance for all of your help.
Last edited: