Joined

May 16, 2019
Messages

181
I picked up this guitar last weekend after reading some facts about them on another forum.
As far as I can tell, this guitar is original, and in pretty good condition, considering it's 43 years old.
Walnut body and neck, Ebony board, and T-Top pickups. Definitely gets that '70s tones easily through my Marshall, Mesa, and Supro (Black Magick) amps. Instant ZZ TOP tones are on tap.
One of my least expensive Les Pauls, but it is definitely very-high on mojo and has the coolness factor. Just a great player.
So cool, that I may have to watch for another one of these, only this time an early '80s model, with Shaws and a Mahogany body and neck.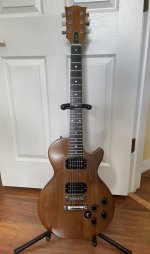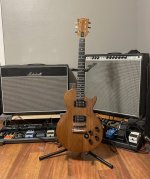 Last edited: