Joined

May 25, 2021
Messages

617
Terry Kath has been praised by fans and guitar greats alike for his brilliance as an absolute guitar powerhouse. Kath, who Jimi Hendrix once cited as his favorite guitarist, fused sophisticated songwriting ability with his soulful, Ray Charles influenced vocals to launch Chicago Transit Authority in 1967. The band shortened its name to Chicago in 1969, achieving worldwide success and 2016 induction into the Rock & Roll Hall of Fame. A consummate innovator, Kath created mind-blowing, never-before-heard guitar tones by experimenting with unorthodox guitar/amp configurations. His instinctive command of his completely original tone is heard on memorable tracks such as "25 or 6 to 4", "Free Form Guitar", "Introduction" and others.
His main guitar—the one with which he is most identified, and which accompanied him on the journey to cult status—is a most unusual 1966 Telecaster, completely customized and plastered with stickers. Kath was so attached to the guitar that he'd buy a seat just for the instrument when traveling by air, rather than entrusting it to airline baggage handlers or even Chicago's road crew. The Tele® was an amalgamation of highly personalized modifications, including a sawed-off Tele bridge with a synchronized Strat® tremolo, a humbucking neck pickup, custom body routes, a reverse control plate, custom tuning machines and three "wing" string trees. Adorned with Pignose stickers and other intricately placed regalia, the guitar has become legendary in of itself and is synonymous with Kath and his enduring musical legacy.
The Fender Custom Shop is distinctly honored to pay tribute to such an acclaimed pioneer by recreating Kath's amazing custom instrument—which truly embodied the notion of "custom" long before the Fender Custom Shop was founded. Master Builder Dennis Galuszka has recreated the guitar in exacting scratch-for-scratch detail, from the Pignose stickers to the gaff-tape-sealed rear body route and every other exacting element. In a special 50-piece run, the Limited Edition Terry Kath Telecaster is an instrument for the ages and a meticulously crafted homage to one of the true guitar greats of our time.
Terry is one of the greatest guitarists who ever lived. It is a shame how he died. Allegedly he was at a party being thrown at the house of Chicago's keyboard technician, Don Johnson, and Kath, an avid weapons collector, assured that the gun he was holding was not loaded and accidentally shot himself in the head with it, though more sensational reports say he died playing Russian roulette, though Kath being a heavy drug and alcohol user didn't help either. He was very into using a lot of different pedals, including Pignose (the Pignose logo is plastered all over that guitar), a Cry Baby Wah Pedal and what sounds like either an MXR phaser and/or a Mu-Tron Bi-Phase pedal, which is featured heavily on albums such as Chicago V, Chicago VI, Chicago VIII, Chicago X and Chicago XI.
His amps, however, were usually a Fender Showman amp, an Orange amp, a Knight amp and a Fender Twin Reverb amp. In addition to the Tele, he also played a Fender Strat, a Gibson Firebird, a Gibson Les Paul Professional and a red 1969 Gibson SG. Rumor is that the headstock of the SG fell off and that he put the humbuckers in his SG into the neck pickup of his Tele.
You should also check out his documentary Chicago: The Terry Kath Experience, spearheaded by his daughter Michelle Kath Sinclair, and featuring interviews from Joe Walsh, Jeff Lynne and Peter Cetera, among others.
I really should rob a Guitar Center one of these days and see how much they want for a Fender Custom Shop Terry Kath Telecaster.
Here is the genius of Terry Kath himself playing that beloved Telecaster: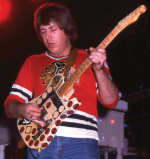 I hope there is at least
one
Chicago fan who inadvertently stumbles upon this thread and likes it.