Joined

Jun 26, 2022
Messages

38
Hey everyone, just starting up a build thread here for an R7 that was sent to HM earlier this year.
Purchased this guitar new back in 2005 from the late great Center City Music in San Diego. It was the best of 13 R8/R7s I tried out that day and R9'esque in weight and neck dimensions (8.6 and .89/.98). After owning it for a bit noticed a couple other odds things... a tiny bit of red mist on the neck binding (possibly an aborted cherry spray?) and a ton of flame in the control cavity.
Over the years the finish sunk and it appeared to be flamey all over. Around 10 years ago began researching refinish options. Then the 2013s were announced and in a rash decision got a pretty nicely flamed R8 from Daves that I've enjoyed for years which put doing this to the back of my mind.
After a recent consolidation of guitars, selling/trading about 15, I was faced with nearly trading this guitar off while holding onto that R8, but playing them back to back just couldn't do it. They're both excellent guitars and I have unfinished business with this one.
Without further ado, here's some initial progress photos from original gold -> bare -> ice tea. Posted a thread on the other forum a week before the burst photos came in... a few folks thought it would be too barbecue due to the cross grain and would be better to reshoot in gold. Happy with my decision now we have the first photos of it painted. Def a western top when my preference is for wavy eastern tops w/ plenty of movement and flecks, but I'm happy with my choice. Kim thinks "It looks killer
".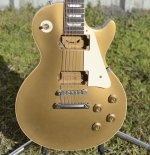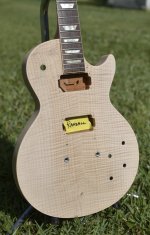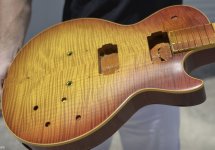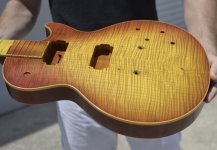 Last edited: