Joined

May 25, 2021
Messages

183
Not sure you guys are understanding of this band, but I recently got into the music of Sonic Youth and Kim Gordon. They were a great influence on bands like Hole (whose 1991 debut Pretty On The Inside was produced by Kim Gordon), Nirvana, Foo Fighters, Radiohead and newer bands like Panic At The Disco and Fall Out Boy, and their fanbase includes Bruce Springsteen, Elton John and Devo frontman Mark Mothersbaugh.
She has played several Gibsons, including an SG, a Les Paul, an ES 335, a Gibson Ripper Bass, a fretless Gibson Ripper bass, a Gibson E2 Bass, and a Gibson EB3 Bass.
According to Equipboard:
A '76 Gibson Thunderbird acquired by Kim in 1988 to replace her Rickenbacker and Ovation basses. She stopped using it live in favour of her BC Rich during the Goo era, though it did show up at a few shows. It was used for the recording of "Dirty", however, and many 'Dirty' tour shows in '92. She also used it for the recording of "Sonic Nurse". Jim used it for the Nurse tour, and Kim revisited it for the entirety of the "Daydream Nation" shows they did, except for 'Eliminator' which she played on her EB bass.

Still used on the Eternal tour.

Gauges: .105 .085 .065 .045

Wood finish

2 pick-ups

Rosewood fretboard

White pickguard

Various scribbled messages, including Mark Arm "So Messed Up - You Know It" and

"Sister Rock On, Love John Bram"

Used in "Candle" & "Cinderella's Big Score" videos
Usage:
live, studio/recording
I think Jim played this bass too. I'm pretty sure Kim Gordon still owns her Thunderbird bass, I know she lost her Telecaster and SG when she and Thurston Moore divorced years ago. I have also heard Kim Gordon bought the Thunderbird after seeing John Entwistle of The Who play a Gibson Thunderbird.
Here is a picture of the Thunderbird: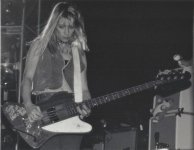 I personally think that Kim Gordon and Aimee Mann have a similar following, as both were female bassists who were very alternative influenced in their sound and were responsible for writing the majority of the group's hits (in this case, Aimee was a member of Til Tuesday and played a lot of the same equipment Kim Gordon did.)
But if you have any thoughts on Kim Gordon's Thunderbird, please feel free to share your opinion.