I thought it was an 80s Les Paul Jr, technically Special.
I was told it originally had 2 P90s and had the neck pickup route filled and the bridge routed for a humbucker. It was repainted many times. It appeared to have a serial number stamped as a Gibson would under the paint. The headstock appeared authentic. The shape looked like a normal Jr. 80s Jrs had a tune o matic. This would mean minimal alternations, pickup changes and paint.
However, looking at it now the odd part would be the heel. It starts higher than on a normal Jr. The heel starts towards the top of the cutaway, while Jrs start at the bottom. Due to this, the bridge and pickup appear a bit higher too.
It was set neck. Aside from the heel, everything appeared correct and Gibson.
This is the only photo I have.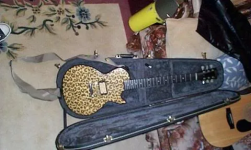 I mocked what it would look like without the refinish beside a standard Les Paul.