Here are pictures that I took of Mike Parker & his 1958 Gibson Explorer (3 Amigos Guitar Show - August, 2000, OC Fair, Costa Mesa).
(all pic's ©2000 SK -
Do not use without permission
).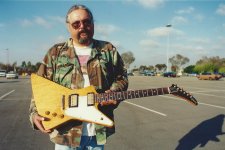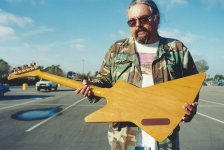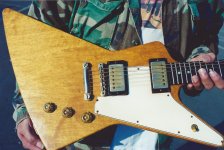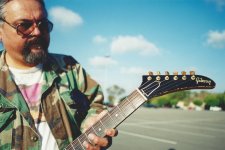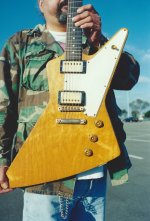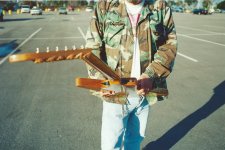 As you can see in this bottom pic there are black "Stingers" painted at the base on each side of the neck joint.
According to Mike Parker, this Explorer was once owned by Don Preston, guitarist for Leon Russell. It was filmed in Concert For Bangladesh when Leon took the stage (as a guest performer). This guitar can also be viewed in other Leon Russell videos from that time period.
Mike is no longer with us but he was a genuinely nice guy to be with (and allowing me to take these pictures). He also allowed me to trace out the body and the peg head on drafting paper.....
Last edited: