Joined

Apr 16, 2015
Messages

94
I've been searching for a good 60s SG Special or Junior for the past half year and here she goes at last. The guitar is insane and has some rare special features that I certainly appreciate. 1-piece neck, small headstock, untouched '68 electronics and early '68 specs: double Black Bobbin P90s, large ceramic disk caps and those nice ornamentic style metal tuners. The wraptail is strangely plated in nickel instead of chrome like a pre-66 so I guess Gibson used a left-over because it's an original non-compensated TPBR 8513 lightning bolt TP. The color is beautiful Cherry Red instead of the usual Walnut of the period.
The fretboard absolutely looks like sweet Braz so I did the smell test by removing the nut and roughing up the fretboard edge with a tiny sandpaper and sure as hell the sweet aroma came off instantly. Let me tell you, this guitar sounds bad-ass. Stays in tune even with the vibrola (also while using the vibrola not so gently). I tried the guitar with stringing it under the wraptail and it's much louder acoustically that way, almost as much as an ES-339! But that vibrola is just too good to not use it.
Look at that dense mahogany grain on the body, it's the same Hunduran / Belizian type that you see on 50s examples. This SG weighs only 2,95 kg / 6.5 lbs even with the vibrola tailpiece setup and those heavy metal tuners. I'm in love with this baby.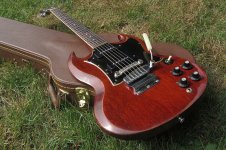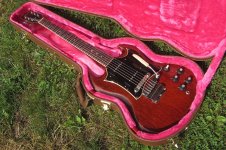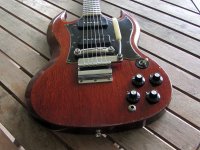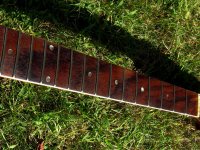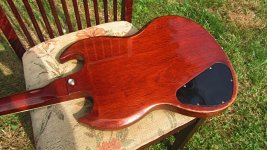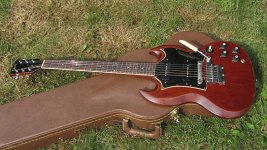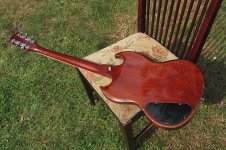 Last edited: