Joined

Apr 15, 2021
Messages

248
Last time I owned an SG I was in high school in '78, it was a '68. Boneheadedly traded it for a '74 Les Paul. Having a blast with this one. Played a heck of a lot of SG's over the past few weeks and Wildwood Guitars (no affiliation). Neck is .82" 1rst fret and .91" at 12th. Has some shoulders so feels really good in my hands whereas the ones that didn't have shoulders felt too skinny for me personally. Fantastic tone. I was a little skeptical about the underwound Wildwood pickups in an SG, but I'm extremely happy with the tone in all switch positions. A little on the heavy side for an SG at 7.7 lbs, but all my guitars are right around 8lbs give or take a few ounces. Nice dark fretboard with tight rosewood grain. Beautiful wood grain in the body and the gloss ultra faded mahogany is a sweet color. I get some clean Tele-like tones out of it at times and other times could be mistaken for my R9, but overall it is Dickey Betts all the way and it begs to be cranked up!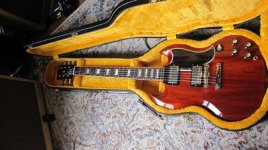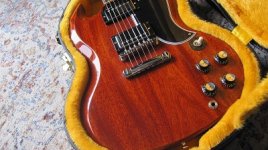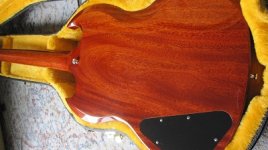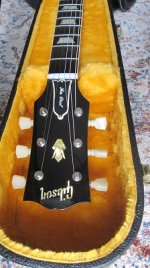 Sadly, due to the guitar proliferation treaty of 2005 in my house, if one comes in, one has to go. So my Custom Shop (Nashville) ES 335 is up for sale on reverb. The big comfortable "C" neck (.93" at the 1rst fret) has been giving my hand some trouble past few years unfortunately, but It is a gorgeous tone machine and I'll miss it. Who needs 5 guitars anyway
As I said I played a lot of SG's lately so happy to relate and answer any questions.