Joined

Dec 25, 2012
Messages

353
I purchased a one off hand built Korina Explorer 'COPY' back on April 29.
The guitar was sold with no hard case and no gig bag.
I imported the guitar from Japan and the Explorer arrived today.
The shipping box was packed full of Japanese newspaper, bubble wrap, and packing peanuts.
To my delight the guitar arrived intact with no damage!! HUGE RELIEF !!! Props to my peeps in Tokyo for a 'beyond pro' packing job!!!
The first thing I noticed while unpacking the guitar was a massive smell of nitro lacquer
= one of my favorite smells!!!
The seller described the finish on the guitar as, "There is no middle coat, it is an all-lacquer finish with only the sealer and clear layered. This is similar to Old Gibson. Also, it is not a perfect mirror surface, but an aged finish."
All I know is when I was unpacking the guitar all I could smell was a room full of lovely smelling nitro lacquer that smelled good enuff to eat!!
So, the guitar arrived free from any damage, smells like a nitro lacquer production facility, and I will be documenting the attributes of the beast here as I have time.
The seller stated the fingerboard as being rosewood but I swear it looks like ebony. Oh well; no biggy either way.
The seller also stated the neck thickness as 25mm at the first fret. The seller was not kidding as the neck is HUGE!!
Here is a quick & crappy flash photo.
Gotta go clean the gutters & mow the yard before it rains. Cheers ........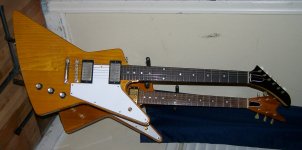 Last edited: