Hi everyone,
I sure could use some help in finding my mid 1970's Gibson Les Paul Custom "Black Beauty" that was stolen November 1983 from my rehearsal space in San Rafael, CA. just north of San Francisco. Pics below. My parents bought me the guitar brand new for my birthday in 1977. They have both died recently and it would mean a great deal to me having this guitar back in my hands and heart as it's rightful home. There would be a market value reward for the guitar's return and no questions asked. I'm not on Facebook, just Instagram, so any help is very much appreciated, thank you!
Specific details:
Gibson Les Paul Custom S/N 491498 with gold hardware. Serial number makes it built from 1974-1976.
Serial Number 491498 is stamped into the wood on back of headstock.
Factory Second, Number 2 was stamped into the wood on back of headstock.
There is a long finish crack directly under the low E string that runs between the pickup bezels.
There's a small hole drilled between the two volume controls where I added a coil tap switch in the late 1970's. You can see the switch in the second photo below.
Pickups were changed to Dimarzio Super Distortions in the late 1970's. And around 1982 a custom wound low output black/cream zebra Dimarzio X2N pickup was put in the bridge position.
Pickguard, both pickup bezels and pickup selector ring were painted white by me in the late 1970's.
Gold speed knobs were added by me in the late 1970's.
A refret was done in the early 1980's using large fret wire.
I know it's a long shot but with both my parents now dead I want to find this treasure they bought me as it connects me back to their memories.
Thank you,
Greg Vorobiov
www.gregvorobiov.com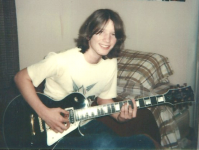 Last edited: