Joined

May 25, 2021
Messages

617
In July of 1962, Fender's catalogue included electric guitars (Which were the Duo-Sonic, the Esquire, Esquire Custom, Jaguar, Jazzmaster, Musicmaster, Stratocaster, Telecaster and Telecaster Custom), and three basses (The Fender Precision Bass, Fender Jazz Bass and Fender Bass VI), five steel guitars, two pedal steels, and 13 amps. But in early 1965, Leo Fender would sell the instrument brand that bears his name to CBS for $13 million, which was considered to be one of the biggest sells in the history of music at that time.
The transition Strats and basses are often disliked by guitar aficionados for this reason, but they are good guitars. However I will not be discussing transition Fenders (64 or 65) for obvious reasons, though they aren't bad instruments either.
By 1968, the Fender Stratocaster headstock was enlarged (which made it harder to tune a guitar, not to mention that the headstock had a greater risk of falling off, breaking and or getting damaged.) The blocky black lettering had also arrived. To be honest, I think CBS Fender guitars are more recognizable than any other Start in existence (except I also like 54 Strats and 61 Strats, and also find them to be pretty recognizable.) Bodies became less contoured and harder to carry, finishes got thicker in later years, and 3-bolt necks started appearing in 1970. It was all a little regrettable--but a lot of artists played CBS Strats, and they didn't seem to have a problem with it! In fact, Doug Fieger, the rhythm guitarist and vocalist for The Knack, admitted that My Sharona was played on a 1972 Strat he bought brand new because of its maple neck, 3-color sunburst finish and maple fretboard, which reminded him of one of his earliest musical influences, Buddy Holly. The song also used a Vox AC30 amp, both of which were auctioned off shortly after Fieger's death in 2010.

Not to mention Hendrix's Woodstock Strat (which sold in 1990 for 198,000 and again for $1.3 million in 1993, it is now on permanent display at Microsoft cofounder Paul Allen's Experience Music Museum in Seattle), Malmsteen's 72, Ritchie Blackmore's 1968 (which was played wonderfully on those great Rainbow albums). I think a CBS Strat is equally as tasty sounding as any other Strat ever. Plus, I always associate sunburst and Olympic White with the finishes of a CBS Strat, though CBS Strats still had both maple and rosewood fretboards. In fact, here is Ritchie playing his Strat with Dio: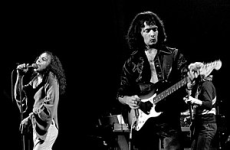 Also, Neal Schon played Strats, Fast Eddie Clarke of Fastway and Motorhead played a very heavily modified CBS Strat, Randy Bachman owns a 71 Strat that he has also heavily modified, The Edge used a 73 Strat through a Vox AC30 amp on Where The Streets Have No Name (he has also played several Norlin gGbsons), Ry Cooder has played a Strat, even Susanna Hoffs of the Bangles has played Strats.
Lowell George used a CBS Strat on most of the Waiting For Columbus album (which he also modified with Tele pickups), Ed King of Lynyrd Skynyrd owned a 73 Strat, John Entwistle of The Who owned a 68 Paisley Strat, Noel Hogan of The Cranberries played a 1973 Fender Telecaster (which was his first guitar), Billy Corgan of the Smashing Pumpkins played a sunburst 1973 Fender Stratocaster (which became the model for the Billy Corgan signature Strat), John Mayer owns several Fender CBS Strats (he mostly plays Paul Reed Smith guitars now due to the endorsement deal, but if you listen to his early records they are all Strats...), I think Tommy Shaw plays some Strats. Bruce Kulick does. Jim Root of Slipknot has both signature Fender Strats, Fender Telecasters and Jazzmasters, modeled after his CBS Strats, CBS Teles and CBS Jazzmasters he plays in Slipknot, I think Gavin Rossdale of Bush also plays a CBS Sunburst Jazzmaster. Jimmy Page played an Olympic White CBS 1971 Stratocaster, which recently sold at auction, Kerry Livgren of Kansas also played a CBS Sunburst Strat with a rosewood fingerboard (you can see it in the video for Carry On Wayward Son), Jim Adkins of Jimmy Eat World has a signature Tele modeled after a CBS Tele, the Johnny Marr Jaguar is modeled after a CBS Jag, the Troy Van Leeuwen Jazzmaster has the block inlays that have the binding on them.
But I hope people like this thread about CBS Fenders.