I'm not sure I've ever posted here, so greeting all.
I've had a 2012 R9, bought used in 2013, which I never bonded with. I've tried to sell it a couple times with no luck. I guess the stigma of the 2012s lingers on.
Anyway, I've been eying a couple "new" R9s at the local GC (OKC) for awhile, finally decided to haul my 2012 R9 for an A/B and possible trade.
This GC had two brand new Murphy Lab R9s - one was the $10,999 heavier relic, and one was the $7,999 lighter relic. Additionally they had a couple R9s (one VOS and a "Beauty of the Burst") and a couple R0s (1960).
So thanks to a very patient GC salesman there, I asked him to let me pull them all down and give them a go. Luckily they happened to have an SV20H and a 1960A cab sitting there.
I tried them all - the clear winner was the VOS R9. The Murphys were close, but that one R9 just had a lower mid push in in the tone and a ballsy attack that two salesman and a couple customers all agreed just had "it". The $7999 Murphy was good, but it lacked the balls of the VOS R9. That VOS R9 is super percussive and articulate, and it just had that lower mid push that was absent in that Murphy R9.
Oh yeah - NIGHT AND DAY difference between the 2012 and every single newer R9... the CustomBuckers and all the other improvements dramatically improved the tone compared to my stock 2012 R9. I did not expect it to be so dramatic a difference. But honestly, even playing the new R9s - they just resonated; you could feel it through the guitars. My 2012 never had that, so maybe mine isn't a great example.
Here's the strange part... the best sounding R9 - VOS - is a 2018! Mike (GC sales dude) looked it up and said they got it it in late 2019... so strange it's a 2018, and took so long for them to get it.
No matter, it sounded and looked better than any other R9 LP in the store, so I took it home with me.
Thanks to a 15% coupon and Mike being a little flexible on the trade for the 2012, I didn't get beat up too terribly bad.
Edit: pics.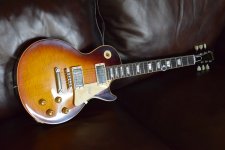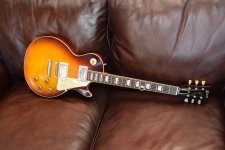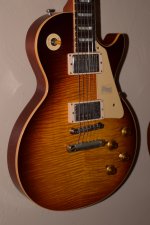 Last edited: