Joined

Apr 14, 2007
Messages

2,433
… because I just bought the best one ever made!!! :hee
(Sorry for the long post, but I hope you enjoy reading it!)
I have been going through a pretty tough life situation for the last 8 months. It's not over yet, but the light at the end of the tunnel seems to be getting brighter every day. To celebrate, I decided to buy myself a new R9!
I had been scanning the dealer websites for a while. When I saw this 2020 R9 in Iced Tea burst at Mark's Guitar Loft, I thought it looked gorgeous. I emailed Mark, but I didn't say, "Hey, how does this one gorgeous guitar sound?" Instead, I asked him to compare the tone of several guitars. I wrote a pretty detailed description of what I wanted tonally out of a guitar. In fact, I never mentioned anything at all about aesthetics – color, flame, mineral streaks, etc., or which guitar I preferred the looks of. All I asked about was tone.
Mark played 5 Les Pauls for me and wrote back that this one particular guitar was a solid standout tonally. When I looked up which guitar he was talking about on his site, my heart jumped when it turned out to be the exact guitar that I loved the looks of! Surely, the stars were well aligned!
I called up Mark and got the full download on the guitar. His description of the tone was exactly what I was looking for. When Mark said, "This guitar won't last long," I replied, "I know it won't last long, because I am buying it right now!" The six day wait for shipping (over a weekend) was excruciating! But she finally arrived, and I've gotta say she is everything Mark said she was!
The bridge pickup has that violin like quality that I have heard on other guitars but never been able to get in any of my own guitars before. It is thick yet bright. Great lead tone with overdrive, and great clean tone, too!
I love a middle pickup position for playing clean blues leads and blues rhythm (7th chords, 9th chords, etc.). This one sounds great! It has the fullness that you want, coupled with the bright front end from the bridge pickup, which makes the sound very three dimensional. Single notes have a kind of "pop" to the attack of the note, which I love! When played right, you can get a chimey, almost glassy tone.
I've never had the neck pickup on a Les Paul sound as good as this one. It is very clear, round and warm. With overdrive, lead notes really sing. It makes me want to wring every nuance of tone out of it, and makes me more conscious of how my fingers impact the tone, which makes me play better.
On top of that, she is nice and light. I don't have an exact weight, but she feels comparable to my R8 that is 8.2 lbs. To get the kind of tone and sustain this thing has at this weight is really unbelievable! Being used to the neck on the R8, this R9 neck definitely feels different, but very comfortable.
The fit and finish on this guitar is great! Gibson has really done a great job. And as for looks, well, just look at these pictures! I love the color! I love the flame! Everything is beautiful! These are Mark's pictures, because I could never take pictures this good.
In short, I love this guitar! To paraphrase a famous quote, you can have my R9 when you pry it from my cold, dead hands!!! Extra special thanks to Mark Bishop! He steered me to a great guitar and provided excellent customer service the whole way!
I can't figure out how to embed full size picture in the thread, only thumbnails!
It is a 2020 R9 in Iced Tea burst! I think it is about 8.3 lbs.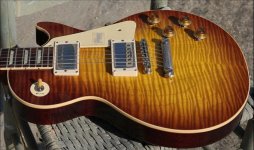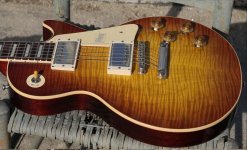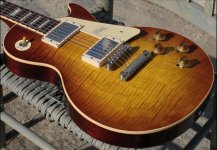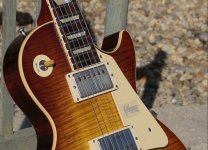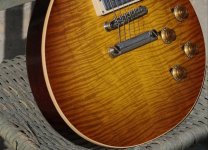 Last edited: