Joined

Nov 9, 2009
Messages

4,068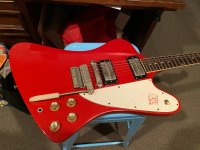 Righto, took many years but I finally got the perfect pickup match for my 64 Firebird. Seymour Phat Cats. Now before you guys have a heart attack this guitar had been already routed for humbuckers when I got it, but I returned it to minis. However I could just never make it work sound wise (and I have another FB that does work), and so I decided to rout it back to hums. The guitar however, remained too bright. After some time I decided to try P90's. BINGO!
It's always been a great playing guitar, and now it sounds fantastic too.
What else you guys doing your Firebirds to make them "yours"?