Joined

May 25, 2021
Messages

616
I posted earlier on this site about Kim Gordon of Sonic Youth playing a Gibson Thunderbird, but nobody replied to it, so here goes...
On Sonic Youth's
website
it says:
"Used by Kim 2006 NOTES:
Kim was seen using this bass at the 06/14/06 Philadelphia show, among others. -Red body -2 pickups -Rosewood fretboard -Black pickguard -2 knobs"
She also has played a few Gibson Ripper bass guitars, one of which was fretless. I wouldn't be surprised if Sonic Youth had an endorsement deal with Gibson.
But I would like to know more about this bass. Like when did she get it, what tracks was it used on, does she still own it, etc.? I know she was playing through a Fender Bassman and Ampeg stacks (in the back of the picture you can see Kim Gordon with a few Ampeg amps.)
They were a great influence on bands like Hole (whose 1991 debut Pretty On The Inside was produced by Kim Gordon), Nirvana, Foo Fighters, Radiohead and newer bands like Panic At The Disco and Fall Out Boy, and their fanbase includes Bruce Springsteen, Elton John and Devo frontman Mark Mothersbaugh.
She has played several Gibsons, including an SG, a Les Paul, an ES 335, and a Gibson E2 Bass.
I personally think that Kim Gordon and Aimee Mann have a similar following, as both were female bassists who were very alternative influenced in their sound and were responsible for writing the majority of the group's hits (in this case, Aimee was a member of Til Tuesday and played a lot of the same equipment Kim Gordon did.)
I also know that Kim Gordon lost a Telecaster and the SG a few years ago when she and Thurston Moore officially separated. But here is the picture of the EB3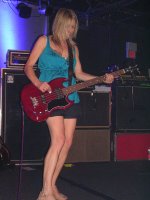 If anybody has any information on Kim Gordon's EB3, I would like to know more.