Joined

Jan 27, 2002
Messages

748
When you cross Steve Howe with Pat Metheny and throw in a little Joe Pass ... you will get this: a
1957 ES-175 equipped with a single, non-stickered PAF.
This purchase was "enabled" by Forum brother Michael Minnis, and was acquired from John Stewart at
www.myjazzhome.com
- a wonderful, trusted transaction. If anything, the condition of the instrument was understated, with the only replacement part being the bridge (original bridge in case).
John Stewart owned and played this guitar for a number of years, and at some point entered in an email exchange with the late Andre Duchossoir. Andre was kind enough to research and authenticate the guitar as "registered at the end of May 1957 (between May 20th and May 31st)".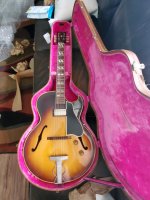 Serial # A25639 - FON: U 9061 19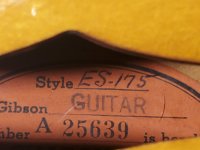 Behold the exquisite and granular weather checking that no razor artist will ever to match: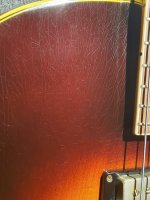 Once she landed at my home, she immediately made friends with other members of the family: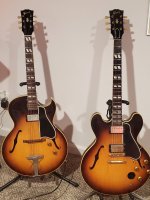 Once again, thank you Michael Minnis and John Stewart! Forum members, if ever you are in the market for a new or vintage archtop, I highly recommend
www.myjazzhome.com
!
I will post more pictures once weather in the rainy Pacific Northwest improves and the sun comes out ;-)